We have training the trainer type awareness from Frome Medical Practice on Tuesday 24th.
We benefited from the services of Patrick Abrahams of Frome Men's Shed in July on two sessions with groups of potentially interested pioneers of a community compassion project in Whitby district. Soon after, the Compassion Project book was published and we obtained a number of copies to share around to read.
Now we receive knowledge from the horse's mouth (so as to speak). There is a team of 6 on the training course. A mix of very varied people.
We have just received funding from NYCC for this stage of the work (it will cover training costs and promotional materials) and next month we should receive the grant from Sirius Minerals Foundation. That will provide ongoing funding for expenditure in 2021.
We 
will soon be progressing 3 vanguard locations of Lythe, Sleights and Robin Hood's Bay  – Covid-19 permitting, although our thinking might need to expand to the role of online compassion! With the events of 2020 and the kinds of adaptation that has had to take place, it would be surprising if online was not something that featured.
What is compassion? It is a word that has grown in usage during 2020 because helping others has been a feature of what all communities have had to do, particularly to support the vulnerable.
Here is a delightful cartoon with a strong compassion message. It is aimed possibly at children, but the storyline and the challenge is for adults. Watch, and reflect on the responses of the characters that appear, even those who are incidental.
Here is another video short on children's compassion that we can all learn from.
Take a look at the 7 Principles of Recovery identified in a survey of people in the North. Recovery from the BIG isolation of the Covid-19 year
A diverse range of people in communities across the North were spoken to. We heard from people living in social housing; adults with learning disabilities; white, black and Asian people; young and old; in cities, towns and villages. Ordinary people.
What did people say?
As we recover from Covid-19, the overwhelming majority of respondents don't want to completely go back to business as usual. The vast majority want to build back better.
50% of respondents want lots of change after Covid-19 and 44% of people want 'some things to go back to normal and some things to be different.'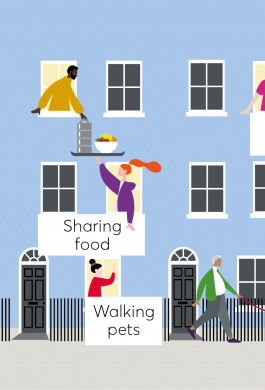 From responses, it was clear that there were 7 Principles for the Recovery that people wanted authorities, organisations and communities to stick to as we recover from Covid-19. These were:
A fairer and more equal country.
Taking care of our environment.
More time with our loved ones.
More investment in local communities and more support for local businesses.
A bigger say and more power for local communities.
Keeping our communities safe and healthy.
Keeping our community spirit.
The 7 People's Principles for the Recovery at the Convention on Tuesday 24th November, 2:10pm-3pm
You can access the event and obtain free tickets here: https://ctzn.tk/recoveryprinciples